Kung Fu Panda is a video game based on the film of the same name. The game was released across various platforms on June 3, 2008 in North America.
Plot
The game revolves around Po, a giant panda who dreams of becoming a great kung fu fighter. Unfortunately his weight and clumsiness makes this ambition seemingly unattainable. However, soon he finds himself going on a journey to save the land from an evil snow leopard named Tai Lung. But also joining the fray are the forces of the Great Gorilla and the Imperial Golden Croc Gang, bent on capturing the Jade Palace's treasures. Also, unlike the film, the Furious Five are captured by various gangs only to be saved by Master Shifu.
Gameplay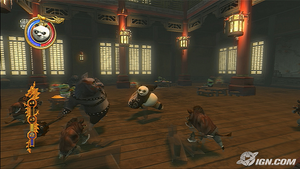 Kung Fu Panda is a game intended mainly for children based on the movie Kung Fu Panda. Players initially control Po, learning various fighting techniques and special moves. In some parts of the game you have to complete the tasks as another character. After collecting a number of coins at the end of each level, the player has the option to buy upgrades to Po's moves and health, as well as a different set of clothes. Eventually, as the player progresses through the game, they will be able to unlock other characters including Master Shifu and members of the Furious Five, a team of elite fighters each with their own fighting styles and minigames. In addition, the player will be able to use objects and weapons when fighting. Furthermore, before each new level, Po narrates the continuing story, while the words are being scrolled up on the screen.
The game also includes a multiplayer mode with new levels and characters. In addition, the game features new bosses including the Great Gorilla, the Wu Sisters and Nameless. The player can also collect action figures of the Furious Five and rare coins and use them to unlock things at the Extras Menu.
Reception
The game received generally positive reviews. Though the Xbox 360 version of the game received a 6.5/10 from Gamespot,[2] it scored a Metacritic rating of 76% from critics.[3] It also scored 7.5/10 from IGN.[4] It also got a positive score of 8/10 from Game Informer. [5]
Achievements
| Achievement | Points |
| --- | --- |
| Level 1 100% Completion! | 20 |
| Level 2 100% Completion! | 20 |
| Level 3 100% Completion! | 20 |
| Level 4 100% Completion! | 20 |
| Level 5 100% Completion! | 20 |
| Level 6 100% Completion! | 20 |
| Level 7 100% Completion! | 20 |
| Level 8 100% Completion! | 20 |
| Level 9 100% Completion! | 20 |
| Level 10 100% Completion! | 20 |
| Level 11 100% Completion! | 20 |
| Level 12 100% Completion! | 20 |
| Level 13 100% Completion! | 20 |
| Kung Fu Warrior | 20 |
| Fastest Warrior | 20 |
| Strongest Warrior | 20 |
| Panda Stumble Warrior | 20 |
| Ultimate Dragon Warrior | 30 |
| Master Of All | 30 |
| Awesomely Awesome | 30 |
| Panda Stumble Extreme | 20 |
| Game Completed - Master | 20 |
| Invincible | 50 |
| Untouchable | 20 |
| Fearless | 20 |
| Secret Achievements | Points |
| --- | --- |
| Level 1 100% on Dragon Warrior! | 30 |
| Level 2 100% on Dragon Warrior! | 30 |
| Level 3 100% on Dragon Warrior! | 30 |
| Level 4 100% on Dragon Warrior! | 30 |
| Level 5 100% on Dragon Warrior! | 30 |
| Level 6 100% on Dragon Warrior! | 30 |
| Level 7 100% on Dragon Warrior! | 30 |
| Level 8 100% on Dragon Warrior! | 30 |
| Level 9 100% on Dragon Warrior! | 30 |
| Level 10 100% on Dragon Warrior! | 30 |
| Level 11 100% on Dragon Warrior! | 30 |
| Level 12 100% on Dragon Warrior! | 30 |
| Level 13 100% on Dragon Warrior! | 30 |
| Game Completed - Dragon Warrior! | 50 |
References
External links